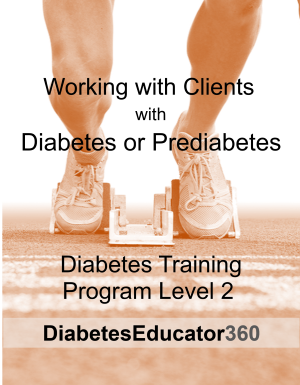 Diabetes Training Program Level 2 | 10 CEU
SKU DEDA210408
Product Details
As an diabetes care professional, you encounter clients with diabetes and prediabetes who need special care to optimize athletic performance. Implement advanced clinical skills and protocols and understand specific medication needs, the influence of nutrition--especially low-carb eating—and help your clients overcome exercise barriers, by harnessing the most updated evidence-based research into your practice.
Maximize your effective clinical and educational skills by mastering:
Review of key terms, diabetes and prediabetes specifics (such as diagnosis, A1C, time in range);
Review and more on hormones, understanding insulin resistance and exercise effects;

Cardio exercise precautions, interval training, resistance, flexibility and unstructured activities, debunking myths;

Review of oral medications, exercise effects of other meds (like statins), effects of food on exercise and health, sports and energy drinks, specific vitamins;

Monitoring exercise intensity, fine tuning food intake, low-carb eating, medication-induced hypoglycemia, spontaneous exercise, later-onset hypos, hypoglycemia unawareness, sprinting to prevent hypos, staying hydrated;

Diabetes-related health complications, medication weight gain, loss, maintenance, youth with diabetes, training trends; and

Overcoming specific barriers to motion, more on effective goal-setting, using technology for motivation.
Learning Objectives
Understand how glucose-raising hormones released during activity affect your clients' training and blood glucose responses.

Identify the best types of training for clients with diabetes of different ages, including adolescents.

Participate with your clients in managing their eating patterns to optimize performance while managing their diabetes.


Understand the latest training trends and how those might affect your clients with diabetes or prediabetes.
What You Get
Exam: 50 multiple choice questions. Downloadable. Unlimited retakes. View our "How It Works" video.
eBook: Working with Clients with Diabetes or Prediabetes | Level 2. Author Sheri Colberg-Ochs. Publisher Diabetes Motion Academy. 111pp. 3175 KB. Downloadable.
Videos: These are supplemental online learning resources to the Diabetes Training Program Level 2. The videos are synced with the Sections of the text and continuing education exam. Use these videos to enhance your learning experience and augment your athletic training expertise when working with diabetic and prediabetic clients.

Upon completing your order, you will receive an automated email with instructions and links for downloading your exam and eBook, and a website address that offers access to the instructional videos.
Save this product for later